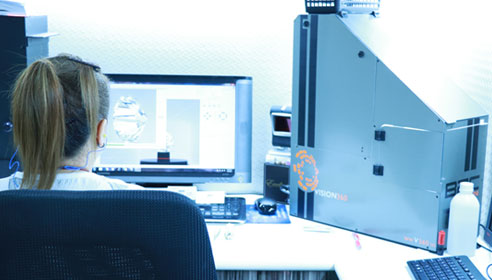 At Excellent Diamonds, we are constantly on the move to ensure you have the best shopping experience. Buying goods online can be an obscure process, but to assist your purchase, we bring to you Excellent Studios. Our professional product photographers are constantly on the move to make sure your experience is fulfilling. While the GIA grading and the Excellent Grading System are in place, we provide you with high resolution photos and videos of the highest quality. The photography procedure is very sophisticated, which includes a thorough diamond cleaning process. The goods are then carefully photographed and filmed, then directly uploaded. Under no circumstances are the videos or the photos edited or recycled. This way you can have full confidence in us as well as in your product.
The machines and softwares we have adopted for this are the standardized v360 machines, which are the industry norm. At these very studios, we also make the plotting diagrams (just like the ones on the GIA certificates) as well as do a luster diagram with the use of an ASET scope. These media files are all available for download on our stock page.
The Excellent Studios, just like all other Excellent Diamonds services are transparent. As these exist to give you better insight into your purchase, we welcome any suggestions for aspects of photography that you may need in order to make the buying process swift.